About Bomber Nel
& Bombers Equestrian
A Guest Expert on GavSays.com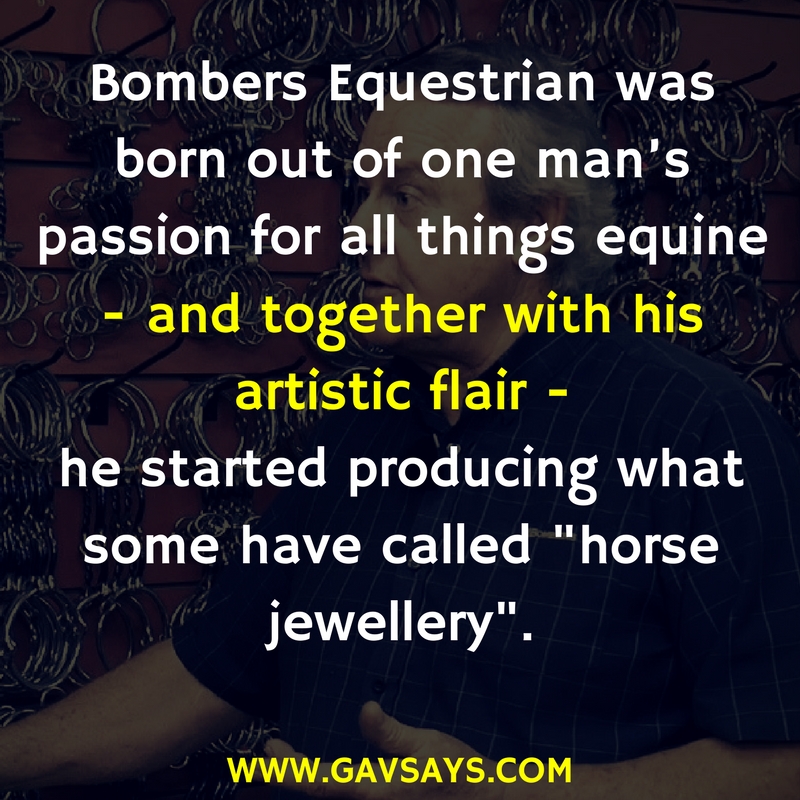 Bomber Nel is a world renowned Bitting expert. His company, Bombers Equestrian, is on the forefront of Bitting innovation and his bits are sought after worldwide.
How it all Started...
Bomber has had a fascination for horses since early childhood, much of which was spent between Zimbabwe and Malawi.
Due to the war in Zimbabwe during the seventies, a need for horse equipment was born and Bomber started making bridles and saddles. The shortage of imported products due to economic sanctions made it necessary to manufacture the buckles, rings and studs for the equipment as well.
Interestingly, Bomber's saddles were used by the Grey's Scouts Mounted Unit during this period.
Immediately after the war he relocated his young family to South Africa where he began to re-establish himself.
Once in South Africa...
He quickly made connections with people in equestrian circles and was soon playing polocrosse.
As soon as his son was old enough, he began to play the game as well, and it was at this point that Bomber saw the need for junior equipment and he began to manufacture a small range of products.
The pressure then began to mount from people within the equestrian community and Bomber started to study bits and their effect on the horse according to the rider's need. 

He began to realize that the subject of bitting is vast and intricate...
By speaking to experts in their fields - such as other bit manufacturers, Vets, Farriers, Equine Dentists, as well as professionals in the various equestrian disciplines - he developed new ideas and started trying them out.

From the outset he was determined to produce an excellent product - and now, great care is taken over each bit, which are hand made.
A Registered Business...
Bombers became a registered business in 2001 and from that date, the brand has become renowned for its innovative designs and quality, becoming sort after in all corners of the world.
It was born out of one man's passion for all things equine and together with his artistic flair, Bomber's produces what some have called "horse jewellery".
What's their Focus?
Their focus is on providing innovative solutions to challenging problems that riders face - particularly in the area of bitting.
Coupling that innovation with handmade quality, attention to detail and testing by world renowned riders, it has resulted in world-class horse products ... and not just bits.
This successful formula has now been applied to a variety of disciplines including:
Cutting & Campdrafting,
Dressage,
Endurance,
Icelandic,
Polo,
Polocrosse,
Pony Showing,
Racing,
Saddlebred,
and Show jumping.
What is Bomber's Philosophy?

Bomber has a very simple, yet important philosophy. And that is:
"Pressure = Resistance. And Resistence = Lack of Control" 
He believes that there is no miracle bit, and that a bit will only contribute 5% to a horses performance. The other 95% comes down to Training the Horse and your riding ability - Strong Legs & Seat, plus Gentle Hands! ...
Which is exactly what GavSays advocates and teaches. And you will find much of this advice in the video lessons.
And both Bomber and Gav say, "The hand is the last line of command. It's the seat, then the leg's, and then the hand last.... People must realize that with horses - there is no shortcut."
You can find out more about this philosophy through the first video interview below...

Videos with Bomber Nel:
Have a Question about Bitting or Bomber's Bits?
Then contact them through the form below...
And you can visit the Bombers Equestrian website here.
Comments
Got questions, comments or feedback! Then have your say in the box below...
---