About Anna Mason - Equine Massage Sports Therapist

Guest Expert on GavSays.com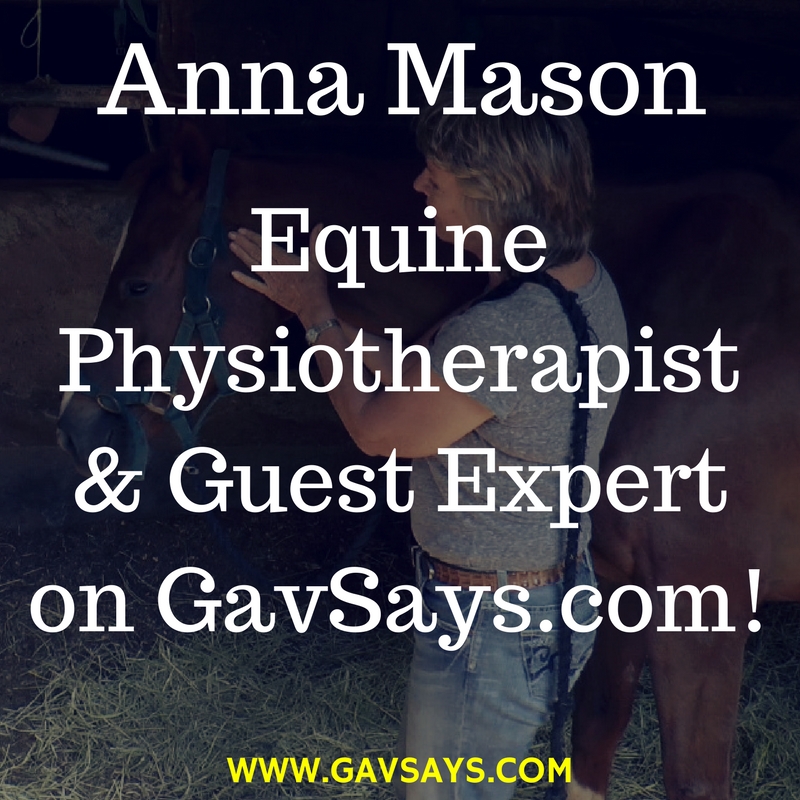 Anna Mason is an exceptional Equine Massage Sports Therapist who has been practicing since 1995 across the globe.
Her passion for horses and their care is remarkable...
And we have been very fortunate to have her as a guest expert on GavSays.com, where she has featured in the following lessons:
Before she starting Equine Massage Therapy she was a Private and then Public Trainer.
Here's more about Anna Mason and her passion for horses... In her own words:
"I was born in Denmark but  moved to Kenya in 1975, which is my home today.
From a very young age, first as a child doing pony club and later as a Racehorse Trainer, my passion has always been horses. I have been very fortunate to be able to make my passion into  my lively hood.
I trained as a Private Trainer  from 1970-80 in Denmark and Kenya, and as a Public Trainer from 1980 – 94 in Kenya and Zimbabwe.
In 1995 I finished a course as an EQUINE MASSAGE SPORTS THERAPIST in Virginia USA.
Since then I have worked as an EMST in many countries, but mostly in Africa and Asia.  
My work and understanding of Racehorses for so many years, not only opened doors to work on Racetracks like Hong Kong, Singapore and Dubai,  but has given  me an invaluable insights into the general ailments of the Horse…
Working with horses in such an intimate way over many years has given me an intuitive understanding of what ails them, and I have used this experience to develop a Program which has great benefit for the horses I work with.
Working so closely with horses over the years has strengthened my affinity to these amazing animals.
Unfortunately we unintentionally out of ignorance, often put them through tremendous discomfort  and pain.
The horses appreciation, when one is able to alleviate that discomfort and pain, can at times be overpowering and humbling. 
I feel very fortunate to be able to work as an Equine Physiotherapist."
For More Info about Anna:
Visit her website at www.annamasonequinephysio.com
And to contact her for Private Training, use the form below...

---